Exhibitions
The Museum displays around 5% of its eclectic collections in two permanent display galleries across two floors, both fully accessible. In addition, we deliver a rolling programme of diverse and engaging temporary exibitions throughout the year in our special exhibitions gallery. This provides an opportunity to learn about and enjoy some of the other items from our vast collection.
Exhibitions
20th April - 15th May 2022
The Friends of Hertford Museum: Forty Years of Support
20th April – 15th May 2022
A celebration of 40 years of support from the museum's hard working Friends Association.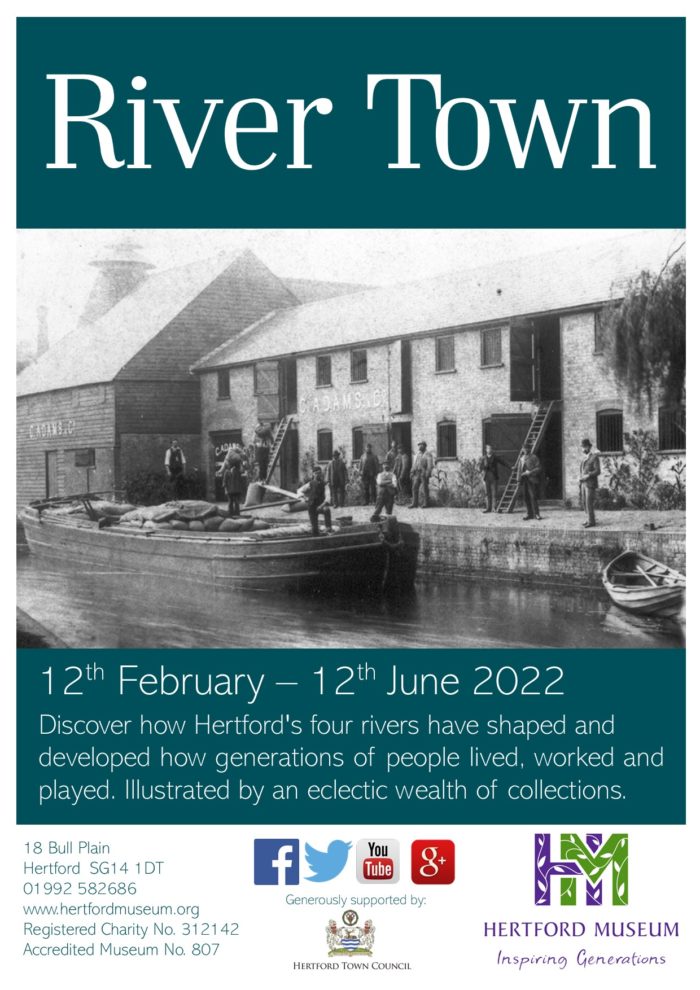 Exhibitions
12th February - 12th June 2022
River Town
Discover how Hertford's four rivers have shaped and developed how generations of people lived, worked and played. Illustrated by an eclectic wealth of collections.
Free. Drop in!
Exhibitions
The Early Days
A display of how they used to collect in the 19th Century, including Natural History and Ethnography which are no longer actively collected by Hertford Museum. However, an important part in the museum's early history was sharing the wonders of the natural world with local people and this section showcases some of these specimens from around the world. Equally, the museum's first collectors brought items to illustrate the culture of other societies for the people of Hertford (ethnographic collection). Some of these items include Samurai Armour, a scrimshaw, Egyptian sculpture and a Greek lekythos.
Exhibitions
The History of Hertford
From prehistoric times to today, the first-floor gallery includes a number of displays to tell the story of Hertford and its surrounding villages. Childhood, health and well-being, sports, shopping and much more. There is a section dedicated to famous Hertfordians and another to Hertford at War, including Hertfordshire Regiment collections.
Past Exhibitions
Past Exhibitions
A Stroll in the Country: Watercolours of John Henry Buckingham
Discover the rural past of Hertfordshire's only city, as captured by St Albans artist John Henry Buckingham (1800-1881), illustrated with his beautiful watercolours collected by the museum founders.
Past Exhibitions
16th October 2021 - 30th January 2022
Dissent: Stories of Activitism in Hertford
16th October 2021 – 30th January 2022
Discover stories of Hertford Activism, from global campaigns to grass roots dissent in this new exhibition at Hertford Museum.
Free, drop-in
Past Exhibitions
Bill Clarke's Hertford
Exhibition extended until October 2021, featuring three new watercolours of iconic Hertford buildings!
Watercolours by local artist and musician Bill Clarke, taking a quirky look at some of Hertford's most iconic buildings.
Past Exhibitions
Here Come the Brides!
Visitors were inspired by some of the beautiful wedding gowns in our collections as we explored the cult of the bride and discovered why we all love a wedding!
Past Exhibitions
High Streets & Hedgerows: Bayford & Little Berkhamsted
The fascinating history of these two delightful villages and the stories of the people who lived and worked there were the focus of this exhibition.
You can still visit the exhibition online.
Past Exhibitions
DANAD: Mavericks of Marden Hill
Discover the amazing story of the pop art pioneers who turned a crumbling Georgian mansion into a unique residential community of creatives. Featuring original works by artists including Tom Adams, Sir Peter Blake, Bernard Cohen, Barry Daniels, Robyn Denny and Edward Wright.
This exhibition has been generously supported by a grant from the Weston Loan Programme with Art Fund and by the Government Indemnity Scheme.