Events
Friends of Hertford Museum: Quiz Night
Sele Farm Community Centre, Perrett Gardens, Hertford.
7pm for 7.30pm. Teams of 8
£12 each, includes Ploughmans.  Bring your own drinks and glasses
Tickets available from Hertford Museum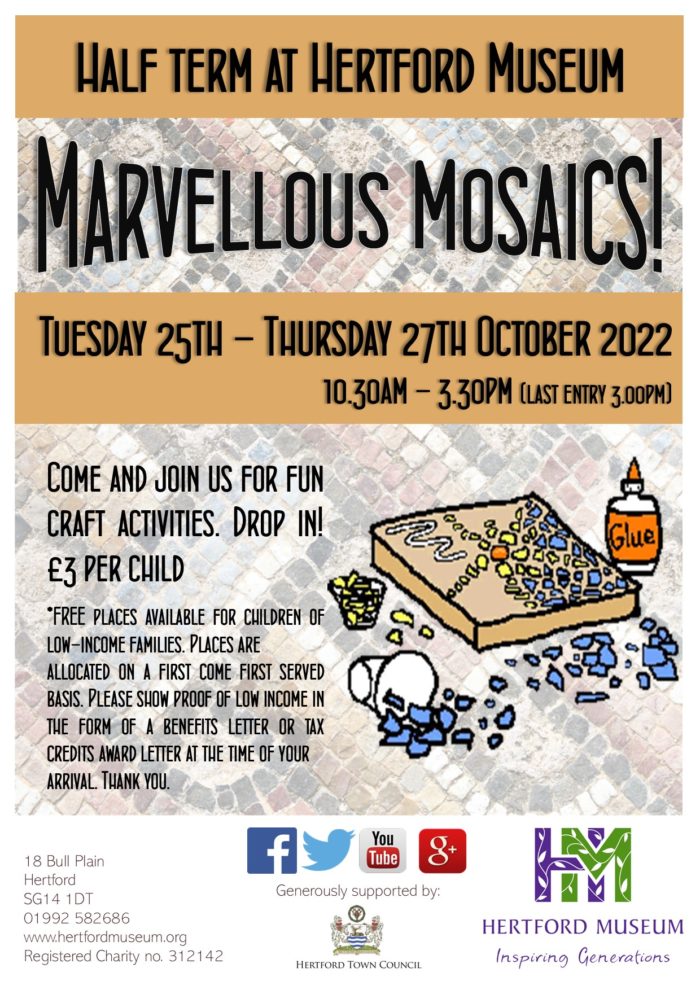 Events
Tuesday 25th October 2022 - Thursday 27th October 2022
Half Term at Hertford Museum: Marvellous Mosaics!
Tuesday 25th – Thursday 27th October 2022, 10.30 – 3.30pm (last entry 3.00pm)
Come and join us for fun craft activities. Drop in! £3 per child.
*Free places available for children of low-income families. Places are allocated on a first come, first served basis. Please show proof of low income in the form of a benefits letter or tax credits award letter at the time of your arrival.  Thank you
Events
Saturday 12th November 2022
You're the Voice! Superstar Karaoke at Hertford Museum
Saturday 12th November 2022 from 7.30pm – 10.00pm
Release your inner mega star as the museum becomes an intimate club venue for the night! Think Glamour, Razzmatazz and a great night out with your friends!
Free Entry
Licensed Bar
Email us at enquiries@hertfordmuseum.org.uk to pre book a table